About
"Luang" means "Yellow bean" in Thai. We spent time in Thai in our 20's, so we named our Tofu shop "Luang" and opened it in April 2006. The location of our shop, "Ryujin village" is the place where Tofu producing used to be very flourishing before. There are clear rivers where Ayu (Sweetfish) live and a lot of gifts from mountains. While we were producing Tofu with firewood from the mountains, we strongly began to want to share this great nature and lifestyle with everyone. So we reopened our shop as "Tofu & Botanical Kitchen LOIN" and began to express it with dishes.
Restaurant
Lunch Time
Every Saturday and Sunday 11:00〜15:00 /
Reservation required (1st seating time: 11:00 / 2nd seating time : 13:00)
Please make a reservation by the day before with the contact form in this website or telephone (0739-79-0637).
You can enjoy our special Tofu, made with the abundant water of "Ryujin village" and the flames of firewood, served with seasonal "Sansai" (wild plants in the mountains), vegetables, and freshwater fish. It is the one and only cuisine in this unique region.
The only message we would like to tell you is "We are also a part of nature". We would like to make a dish that blows a refreshing breeze into the body of everyone who has eaten it.
Wakayama is a place where you can feel the sea even in the deep mountains. We try to project this climate, created by the deep and happy connection between the mountains and the sea on the plates.
We serve Chef's recommended course, which is 3,000 yen (excluding tax) for 1 dish of amuse, 4 dishes of appetizer, 1 dish of main dish, coffee or tea, and small sweets. For children, we can prepare pilaf, etc. so please contact us for further details.
Tofu
We boil soybeans with the fire of local wood to make our Tofu. That's the most unique point of Lion's Tofu. The heat of firewood makes the soy taste stronger and sweeter. The soybeans are all domestic from Shiga and Shimane prefecture in Japan. We soak and boil it carefully with the natural spring water welling from our garden. This making process is very simple, however, very profound, and the precious culture that has continued without changing in this Ryujin village.

| | | |
| --- | --- | --- |
| OPEN | : | Friday・Saturday・Sunday |
| LUNCH | : | 11:00 - 15:00 |
| CAFE | : | 15:00 - 18:00 |
| TEL | : | 0739 - 79 - 0637 |
| ADRESS | : | 259, Ryujimmura Komatagawa, Tanabe Shi, Wakayama, 645-0521, Japan |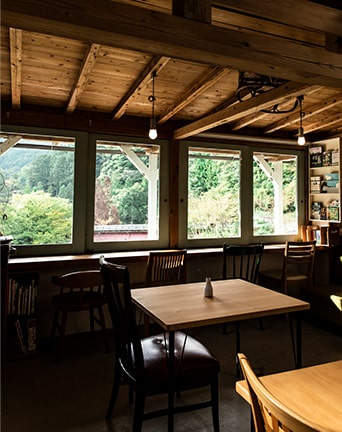 Contact
Please fill out the following contact form for any questions, inquiries, and reservations. We will contact you the next day or later.
If you are in a hurry, please call us at 0739-79-0637.
(From overseas: +81-739-79-0637)